Guided trips are perfect for anglers of all skill and experience levels. Each trip is tailored to the angler's needs so that everyone will have an enjoyable and informative day on the water.
Our half-day trips are 4 hours on the water and include fly rod and reel and all terminal tackle (flies, leaders, tippet, etc.)
Our full-day trips are 8 hours on the water and include fly rod and reel as well as all terminal tackle (flies, leaders, tippet, etc.) as well as lunch.
Multiple guides are required if your group includes 4 or more. This is for safety on the water and quality of instruction. Call us to discuss.
Enjoy a full-day of fly fishing as a group. All fly rods, reels, as well as terminal tackle, lunch, and quality instruction are provided.
WHAT TO EXPECT FLY FISHING
Beavers Bend State Park Lower Mountain Fork River
Our guides will teach inexperienced anglers the basics of fly fishing – casting, fly selection, knots, presentation, fighting and catching fish! If you're an experienced angler, you will further hone your skills while learning the Lower Mountain Fork River.
Our Professional Fly Fishing Guides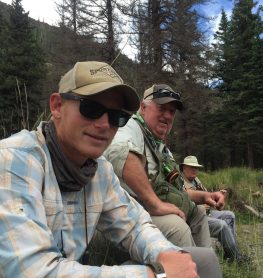 Peter is our head guide and for good reason. He is a member of the R.L. Winston Pro Staff and Ross/Abel Pro Staff and has honed his guiding techniques on both the LMF and Western Colorado rivers.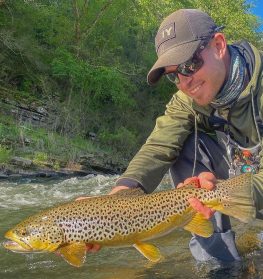 Trey is a patient and passionate guide who takes pride in his ability to guide both experienced and new fly fisherman. He's been guiding on the LMF since 2016 and has fished every inch of the river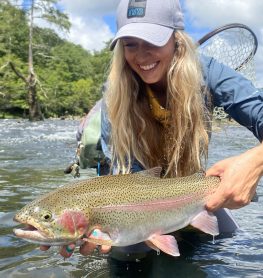 Mo has been guiding on the LMF since 2016. Whether you're an experienced fly fisher or a newbie to the sport, she can teach you how to be successful on this often technical river.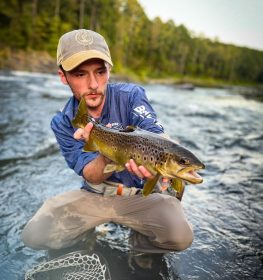 Patrick has been fishing Oklahoma waters since childhood. Nothing gets him more exited than the ability to share his passion with others. Continuously striving to hone his skills in order to pass on what he's learned to others.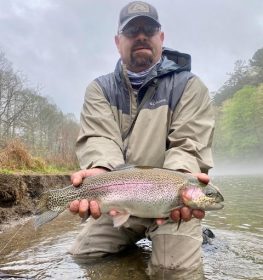 Hirthel has been fly fishing for 20 years, and has had the opportunity to chase trout from the Appalachian mountains in the East to the Colorado Rockies out West, and everywhere in between, including the LMFR.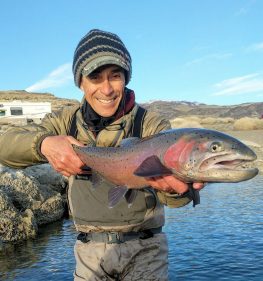 Stephen, a graduate of the Sweetwater Guide School, grew-up in SE Oklahoma where there wasn't a creek, river, or farm pond that was "safe" from his angling pursuits. He's passionate about demystifying fly fishing.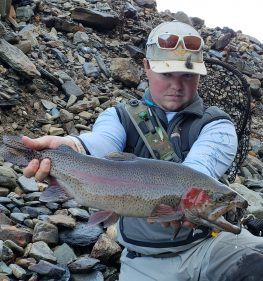 Cody started fly fishing at the age of 6. He started fishing the LMF in 2014 and has guided here as well as Northern Colorado. He enjoys spreading his knowledge of fly fishing with everyone who is willing to listen and learn.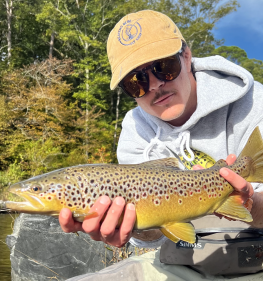 Jet grew up in Oklahoma, fly fishing ponds and warm water creeks, as well as traveling between Arkansas and Colorado, touching as many trout streams possible, including the White River.
Frequently Asked Questions
Our guided fly fishing trips include time on the water and will include fly rod and reel as well as all terminal tackle (flies, leaders, tippet, etc). Waders and boots are available at no cost should you need them.
Should I Bring My Own Gear?
You are certainly welcome to bring your favorite rod and reel. Additional items you should bring are: Oklahoma fishing license, polarized sunglasses, hat, sunscreen, rain jacket.
What's Your Refund Policy?
If you need to cancel a previously scheduled trip for any reason, simply call the fly shop and any deposit already made will be refunded back to the payment card you've used.
How Do You Handle Payments?
Once you pick the dates and book your trip using the button below, you'll be presented with the option to make a 50% deposit securely online using a payment card of your choice.
Book Your Beavers Bend Fly Fishing Trip
Ready to pick out some dates to schedule and book your day on the water? Click the button below and select the date for your guided fly fishing trip and follow the on-screen instructions.